Thoughtful Thursday
On Grief, Joy & Fallen Soldiers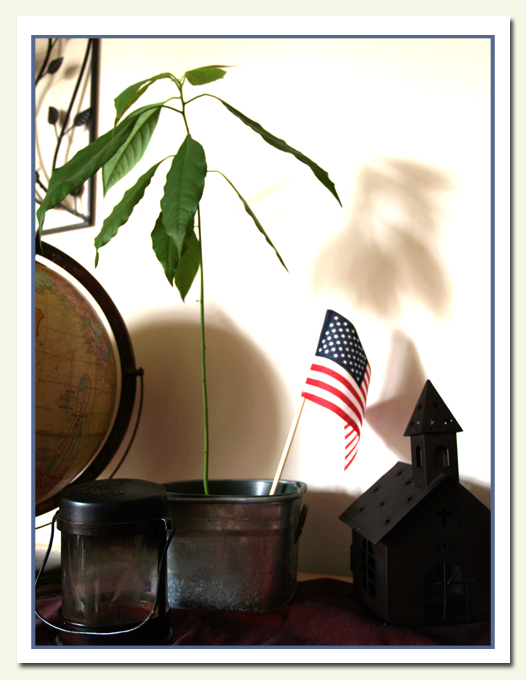 All week I've been scheming about my Thoughtful Thursday post, planning to share some exciting news, but as is so often the case, I was met with the unexpected today, and feel compelled to share about it.  I met a friend for lunch at her place, and we spontaneously decided to walk into town with the kids to grab a bite of pizza.  I was aware that later in the afternoon there would be a funeral procession through town, a hero's welcome for the remains of a soldier killed in the war in Afghanistan.
What I didn't understand was the magnitude of the procession.  As we casually strolled out of the pizza shop and down the main drag to Trader Joe's, women were handing out flags. (Ours eventually found a home with our avocado sprout, pictured above.) People were lining the streets: World War II vets with matching red jackets, firefighters from 30 different towns in dress uniform, a motorcycle gang clad in red, white, and blue, the elderly clutching flags, children taken out of school.  Looking up, we saw the largest American flag I have ever seen billowing in the crisp air, strung between the fully extended ladders of two fire trucks.
You can see some of the stunning images and read more about Sgt. Christopher Hrbek here and here. I can testify that in all my life I have never seen a community come together to honor someone's life in this way.  I left Westwood in a somber state: such sadness, and yet such a truly beautiful tribute of gratefulness for the highest sacrifice.
My mind was reeling.  Already this week, I had been grappling with the devastation in Haiti.  And although I am amazed and grateful for the enormous outpouring of aid and financial help for Haiti, a dear soul reminded me that there are countless others suffering from not a single quake of devastation, but a slow descent into poverty, the cruelty of AIDS, the hatred of genocide, the destructive nature of abuse, the hardships of mental illness. There is grief all around us.
And all the while, as I process these devastating losses, I am surrounded by two little girls, who know nothing of earthquakes and genocide and war.  They delight in such simple joys and thrive in the security of the love that surrounds them.
All this brought me back to a simple concept that significantly shifted my understanding of grief: the idea that grief and joy exist in our lives on a continuum, and when we limit our experience of one, we also shut out the other.
Henri Nouwen wrote:  "Joy and sorrow are never separated. When our hearts rejoice at a spectacular view, we may miss our friends who cannot see it, and when we are overwhelmed with grief, we may discover what true friendship is all about. Joy is hidden in sorrow and sorrow in joy. If we try to avoid sorrow at all costs, we may never taste joy, and if we are suspicious of ecstasy, agony can never reach us either."
So, tonight I am giving myself permission to feel the pangs of loss, both the tangible and those beyond quantification as well as the sweet whispers of love and moments of pure joy, with gratitude that joy and grief are chisels in the hand of the sculptor, and I am a work in progress.