Home Highlights
Gold Star for Pier 1 Imports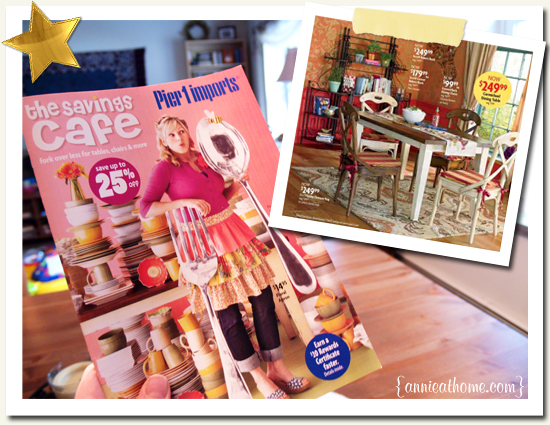 I've never really been a huge fan of Pier 1 Imports. It's not like I don't have things from Pier 1 that I love. In fact, my mental tally of random Pier 1 things I own and love is almost, almost making me consider rewriting that last sentence. But when I walk into Pier 1, there's just so much stuff, and I feel like so much of it is just reproductions of things that would be really cool if they were actually vintage wire egg baskets, or genuine candlesticks from Morocco.
So why, you ask, am I giving Pier 1 a big, fat gold star today? Well, let me tell you.
Numero Uno: This little ad landed on my table the other morning, smack dab in the middle of our self-quarantined week of the everything virus. My husband usually gets the mail at the end of his work day, and it's my little treat to look over it at breakfast: hoping for a hand-written letter, contentedly settling for a fun flyer, or disdaining those purely junk-mail days. This week, Pier 1 gets big props from this average sized mama for featuring a model who looks like a real (albeit beautiful and voluptuous) person. Check her out! Her waist is not smaller than her neck! I've been pretty impressed with the big Dove campaign for Real Beauty, but, you've got to admit, there was a lot of hype about it: Look at us, we're making a positive impact on young girl's body image. Given the airbrushing and eating disorders that color our country, the hoopla was probably necessary. But Pier 1 takes it a step farther, in my opinion, showing us how far we've come, by featuring this lovely looking lady sans all the exhibition. The fact that it stuck out to me indicates that we (or maybe just I?) still have room to grow, but, still, way to go, Pier 1: Way. To. Go. And as if that wasn't enough to earn a gold star…
Numero Deux: I was totally inspired by this table (as shown in the flyer here); it took everything in me not to whip out my paints and start distressing my table legs. As I've thought about our big move, I've been trying to figure out how to incorporate our basic Ikea table, that looks something like this into a more finished dining room in the new house. I've been thinking Pottery Barn Farmhouse style, and this look definitely farmhouses it up. I'm super excited to work on the distressed look.
Who knows, maybe I'll even shop Pier 1 for a few chairs to match,you know, now that they're on my good side and all, mass wire baskets notwithstanding.