Ding Dong!
Curious Thoughts on Summer Reading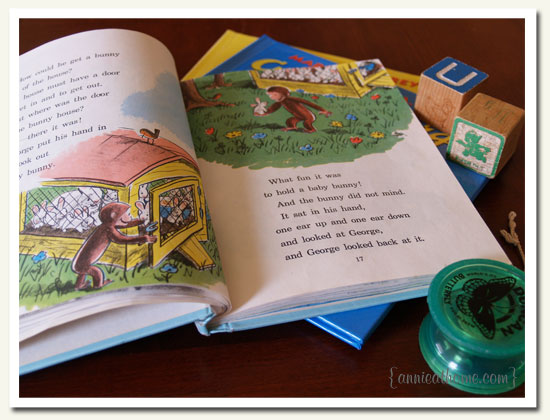 I love our new library, which is my old library, which is now diamonds. (Hmmm…apparently one should not attempt creative writing while her husband watches Old Spice commercials on youtube in the background.) But really, back to the library (which really was my library when I was a little girl): My love for the library could be a whole post in and of itself.  And we've been spending a lot of time there lately, seeing as it's free (I know, Dad, it's not actually free…) and air-conditioned and such a piece-of-cake walking distance.
I love the way Laura chooses books from the library.  I'll give you a  hint at her method: It has mostly to do with the amount of rainbow colors on the spines of books that are approximately 36 inches off the ground.  Last week, she recognized an old friend, as we meandered around the corner of the room that houses the picture books into the R-E-Y section.  That's right.  Good old Curious George. She chose a few of Houghton Mifflin's "Margret & H.A. Rey's Curious George" books, and I prodded her to choose one of the seven original Curious George titles, actually created by Margret & H.A. Rey.
While Houghton Mifflin's done well to preserve the style and look of the Curious George books (and Laura does love them), the educator in me was stunned at the quality of the writing in the original books.  Just the sheer quantity of reading comprehension skills and complex grammar lessons packed into each page of the original books, tucked into such a happy little story, makes the process of learning to read seem so effortless.  Literally, (oh, a pun, how I love a pun… even a bad one!) I spotted fourteen different language arts lessons on one page spread.  Funny that after reading so many basic, blasé stories, an eighty page children's book would be so refreshing!
So head to the library, whether you have little people or not, and revisit those old favorites.  I'd love to know, what are your favorite classic children's books?