Made at Home
Cowboy Caviar :: Summer Living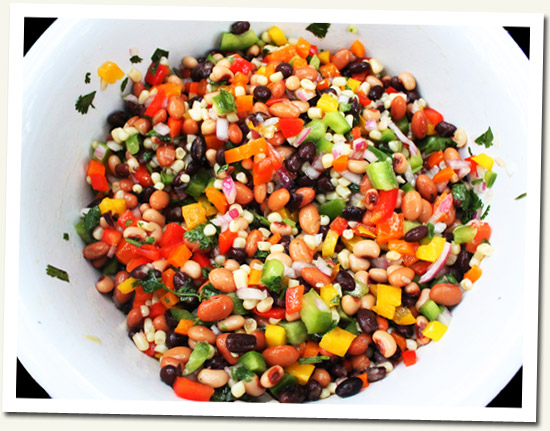 Cowboy Caviar.  I know there are a million recipes like this out there, but this is the one my sister Betty makes, the one we're all addicted to.  I make it all summer long.  I do not think I have ever served it for guests without being asked for the recipe.  So here it is!
BETTY'S COWBOY CAVIAR
1 green pepper, diced
1 red pepper, diced
1 orange pepper, diced
1 yellow pepper, diced
1 red onion, diced
1 can of black-eyed peas
1 can of black beans
1 can of pinto beans
1 can of shoepeg corn
* I almost always toss in fresh cilantro and if I have it, diced mango or finely chopped pineapple.
Drain and rinse all ingredients.  Toss in LARGE bowl.
DRESSING: Bring 1/2 c. apple cider vinegar and 1 c. oil to a boil. (I've used plain vinegar in a pinch, and while the original recipe calls for vegetable, I often use olive. Take your pick!)  Remove from heat immediately and dissolve 1/2 c. sugar into mixture. Cool. Pour dressing over chopped ingredients & chill.  Serve with dipping chips (the scoops variety work best).
This recipe makes a huge batch, but I can attest that we have never had to throw out left overs. Enjoy!