Uncategorized
A Giveaway
UPDATE:: This giveaway is now closed (although you're welcome to keep telling me your favorite Christmas memories!). Congratulations to Jefuremu Njambilo!  Use the contact form to send me your address & I'll ship it out today!  Thanks to all for your memories & traditions shared here!  So glad you all stopped by. And thanks for checking out Freeset and their beautiful work.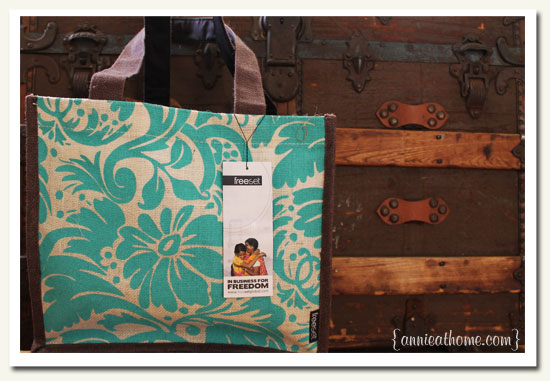 As we celebrate the extravagant gift of a King coming down, right into the midst of our broken world, I'm thrilled to offer this small gift, a giveaway here today, this lovely teal & parchment bag, shown here.
This fall I had the joy of meeting Kristi Griem.  Kristi works with Freeset, a fair trade business that offers employment to women trapped in Kolkata's sex trade. If your heart beats fast for freedom and justice, or if you are just beginning to learn about the dark world of trafficking, take a minute to learn more about Freeset, the lovely products they create (that you can purchase!) and listen to their beautiful stories.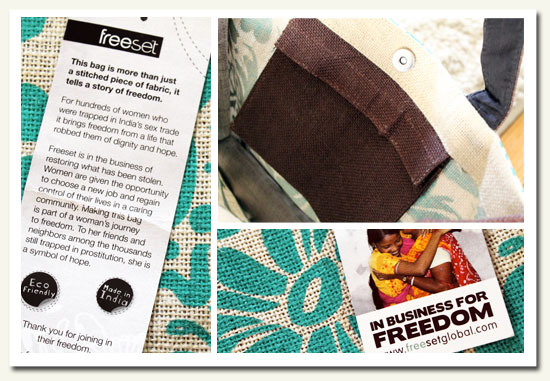 To win this beautiful bag, just leave a comment below sharing one thing you do to celebrate this sweet season, great or small, simple or extravagant. 
Giveaway ends Friday, December 16th, 2011 at midnight. A winner will be chosen at random and announced and contacted Saturday morning, and the bag sent first thing Monday, to get there just in time for gifting or enjoying!{{Giveaway is closed!}}