Ding Dong!
Awakening and Winterfields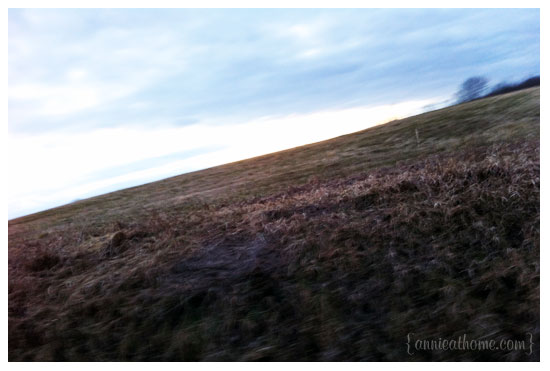 When we go driving early last week, the fields are laced with frost.  It's been cold here, but no sign of snow in our future, and she asks as we drive along, morning sun making silver glints on stalk stumps: "Mom, what will happen if it stays cold all winter and never snows?" and she says it with all the drama and desperation a five year old can muster, which as you may know, is not insignificant.
I tell her that it will snow, that there's plenty of winter left, and that it always snows here. And thirty years of winters vouch for me, and probably it will, but really, I have no idea.  And there are places in my life that I feel like that sometimes, too: What if this is it?
It creeps up, this fear-filled discontent, when my eyes are fixed firm on the temporary and all the very real places that ache and frustrate.  But it's hard to live in hope when my eyes are fixed on frustration, when my heart is asleep to the promises written in an ancient scripture, that could, even today, breathe fresh life into dry bones.
But it is hope that calls me from the kitchen with fresh brewed coffee and I come with my pillow hair and eyes still groggy to find that waking up requires letting go of the warm-wrapped comforters and the dreams, both idyllic and nightmarish, that fill my sleeping hours.  And the hope that's offered as I sink into the Word, and stumble through learning, again and always, to pray, it is real and concrete, and I feel it as I push past awkwardness and offer to pray with a friend, and when defenses crumble and I see the face of my best friend in the husband I've been pushing away all week.  And this morning, I as I look out the kitchen window, I see glimpses of snowflakes dancing in the icy wind.
Yes, linking up this Friday with Lisa-Jo and the community over at the Gypsy Mama, who invites me & you to write for five unedited minutes:
"For fun, for love of the sound of words, for play, for delight, for joy and celebration at the art of communication. For only five short, bold, beautiful minutes. Unscripted and unedited. We just write without worrying if it's just right or not." -Lisa-Jo
This week's word was AWAKE.