Mirror Mirror Mondays
This is The Day, This is the Day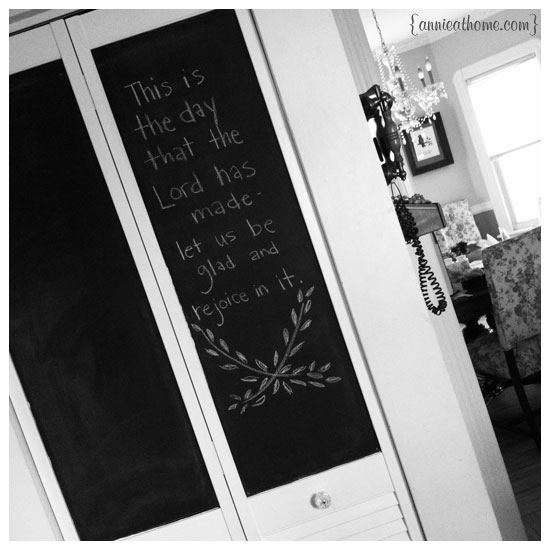 I wrote it on the chalkboard the day my little one woke up for the day at 3:30 in the morning, and her sister an hour later. It was a moment of desperation, the trained teacher in me picking up the chalk and yelling over the chaos: "Everybody, listen up!"  just because the craziness had to stop. I mustn't have expected them to listen, because when they stopped short and turned towards me, I had no plan, no words.
So, I scratched out the words penned by a psalmist, the lyrics of one of few songs my mother would belt out on the piano. Just to put a marker in the day, just to keep me from loosing it completely. I wrote it out from memory, words I needed more then they, and I told them, after the seventeenth meltdown, and just before a very early morning nap, that we would all work together to find the goodness to be glad in.
And writing truth in chalk, it didn't create world peace or prevent the eighteenth meltdown, but somehow it did slow me down, and that was days ago, and the words still linger, and I am learning to rejoice in these busy, small days.
Stopping with Ann to offer thanks today, for…
– my amazing sister, and the sweet baby boy she birthed early this morning, her seventh!
– letters and packages from grandparents far away, and a visit from Papa
– the rare treat of watching the SuperBowl with all three of the men I love most: my husband, my Dad, and my Father-in-law, all in one house for an evening!
– visiting our old church and the sweetness of old friends and familiar faces
– how heartache draws community together, and the gift of offering presence and prayer
– little questions that force me to stop, and answer thoughtfully, and evaluate the state of my own heart
– a new (old) book to read and friends to hash it out with
– chocolate chip cookie dough, enough of it to freeze some and give some and bake more than we should have eaten!
– a creative venture – paintings and decoupage and new friends being made here
– decades old Lincoln Logs, resurrected for another generation
– a husband who hears my heart
– warm breezes and little walks in the middle of winter
– piles of old sheet music, with little notes from piano teachers a century ago: "curve fingers, memorize by April 8, 1918"
– quiet here tonight