Mirror Mirror Mondays
On Shifting Perspectives & Messy Houses
I thought about posting a picture of these sweet pussy willows this morning. It's Mirror Mirror Monday, and they remind me of my mom, and the way she keeps scissors in her glove box to collect wild flowers and unexpected beauty from fields and the shoulders of country roads.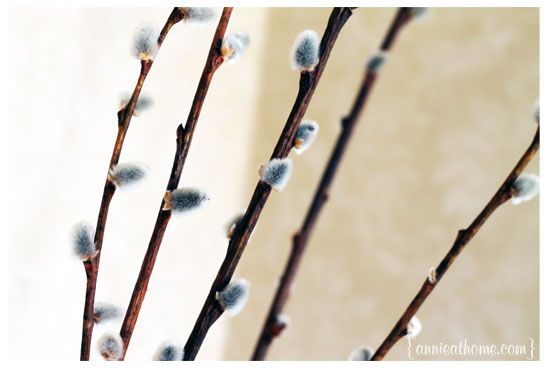 I bought them last spring at the library – a few bucks for a bunch of branches I could have cut myself, all for the love of the local library. And on this blustery April day, they look pretty nice in the entry way, and not too shabby here on the blog either.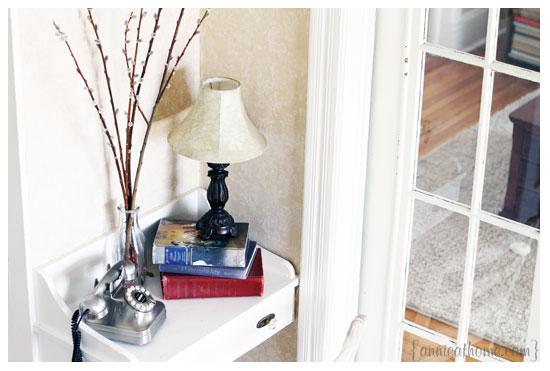 And unless you looked close enough to see the dust (which, for the record, does not remind me of my mom and her impeccable home), you'd never know they've graced that telephone desk for a full year now, a little holly thrown in at Christmastime to disguise the out-of-season foible.
And if I just posted that little picture with some quote about spring and hope, well, I bet you'd never know that my dining room became an impromptu art studio two months ago, and how life piled up right on top of it, three times over, and nothing's gone back to where it ought to be.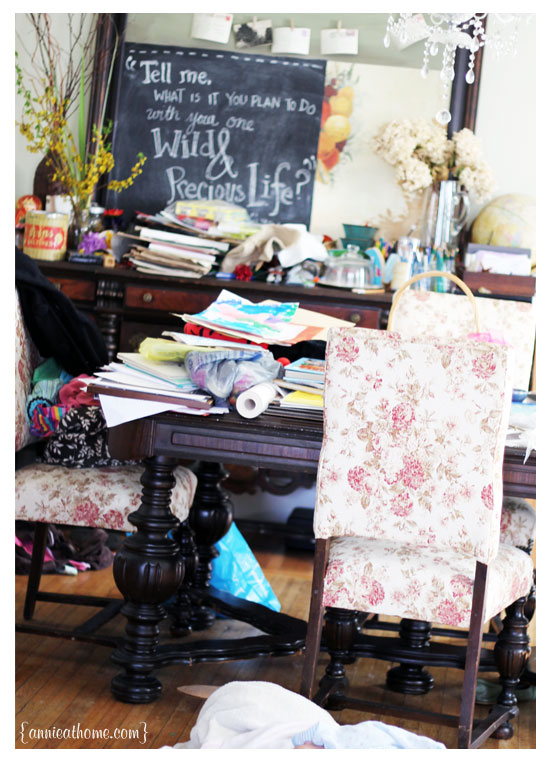 My husband just texted to see how my day was, how I was, and I told him I was blogging about our messy house instead of cleaning it. Everyday this mess is at the top of my to do list, every night headlining the failure monologue that runs through my head: and now I know why people fall asleep with the TV on, the numbing blue lights emanating into the dark from upstairs windows up and down the street.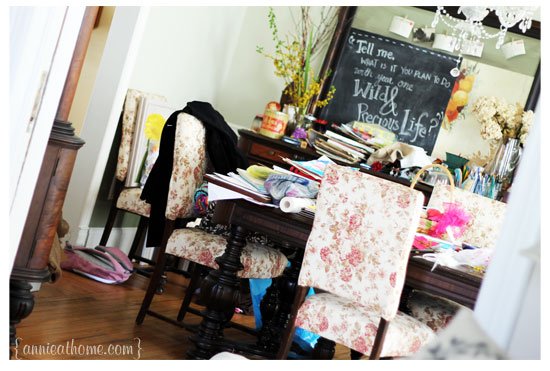 And people ask when I find time to paint. Perhaps on the tag under the paintings, right under title and medium, I should list the amount of hours of sleep sacrificed, or the shameful number of mind-numbing Dora episodes consumed by my children.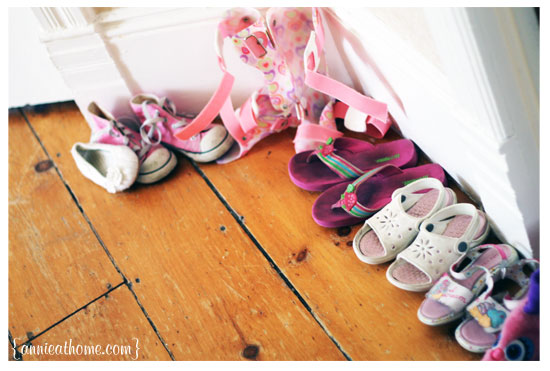 And my little organizer lines up the shoes that didn't get put away here in the hallway, and I had just those kind of good intentions when we built the counter in the laundry room, and somewhere under all this stuff there are baskets for sorting bubbles and sidewalk chalk, beads and outgoing mail. Or at least there were a few months ago.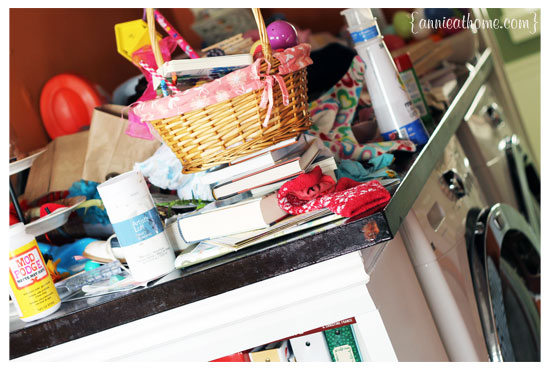 And this is just the physical mess, the places that just need attention and discipline and hard work to be set straight. This doesn't cover my lofty intentions for Holy Week: the butterscotch bird nests we eeeked out (and promptly consumed) instead of the labor and delight of resurrection gardens from Easters past.
And what of the beautiful Tenebrae service we attended on Good Friday, right before I ran to Target to buy chocolate bunnies and something, anything to fit this "nine-months-to-put-it-on three-years-and-counting-to-loose-it" rubenesque figure (see aforementioned butterscotch nests)? And after all that, of course, came the harsh words that sometimes follow late night shopping, mine and his; you know, the ones about the piles of laundry and the money and the hearts that haven't been connected so much these last few weeks?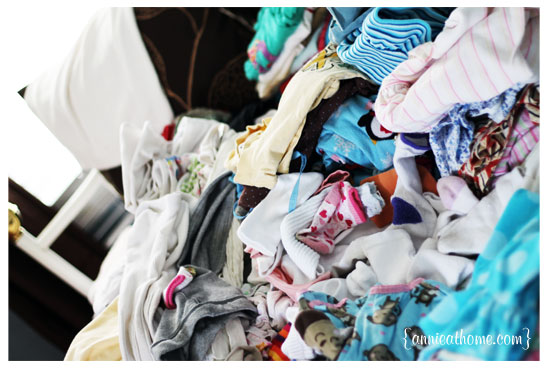 And on Friday afternoon I talked to my sister, the one who lives too far away, who mothers seven children, and she tells it like it is, almost always. And even though she knows wiping babies' bottoms can be as much a liturgy of the sin-stench that drives us back to Christ as a beautifully crafted Easter service, her kids are sick again, and she'll miss the Easter hymns sung in the congregation and the simple traditions that sometimes hold us together.
And I only have two kids and I can't seem to get it together this year, either. And sometimes right now is just plain hard, and it doesn't seem significant or worth talking about, much less writing about.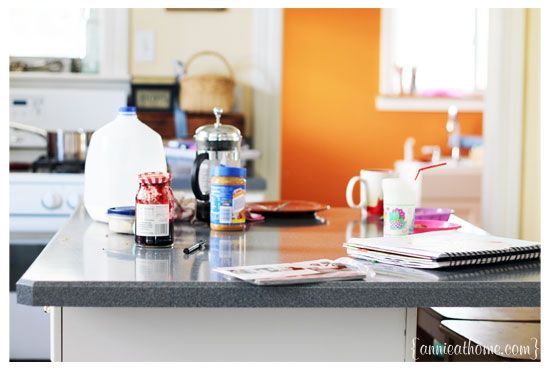 But then I think about the pussy willows, and the glimpses we pick up of each others' lives, of having it all together, and how none of us do, really. And on Saturday I meet a woman at a baby shower, and she tells me that she reads my blog, and how much she loves it, and then she leans closer, and almost whispers words that break my heart: she tells me it makes her feel a little less than, too, and she laughs it off. She reminds me of me.
And I wish she didn't live so far away and she could stop by to see the mess. And if she knew the way I can be so selfish and demanding to those who love me most, or how I often turn into a twelve year old version of myself when I'm around my family – awkward, insecure, sarcastic, I don't think she'd feel the same way.
And I wonder what else is lost in translation. And at its worst, I fear all this writing and word weaving just provides an escape from the broken pipes and mundane difficulties for me, and another window of comparison for you, another heap on piles of laundry and shame for us both.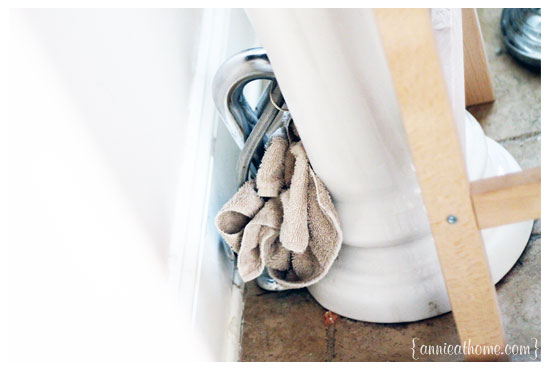 So today, I photograph the mess in my house, and there is no shortage of subject matter, with seventy three images captured in a moment's stroll over piles of shoes and make shift forts. And to tell you the truth, when I open them on my computer, press the little button that adds light and contrast to the images, I am surprised how bright and beautiful the mess looks on screen in comparison to real life, where the auto-filters of failure and frustration often tint my view, and where the nitty-gritty of scrubbing and ordering is required.
And I would do well to remember the lens that sees most clearly is the one not bound by time and space, not altered by a harsh word or shifting hormones or the blur of comparison and ingratitude. And when we let light dispel our dark corners at the foot of the cross, and when we share our mess with those we walk alongside, share the ugly and the vulnerable, it is then that we find the comfort and courage to live in our wrinkled and stretch-marked skin, the boldness to own our stories, and to put those shoes away for the seven hundred and eleventh time.
And Easter may be over, but we're all living life in a perpetual Holy Saturday – somewhere smack between the dark reality of this broken mess and the tomb-bursting hope of the resurrection. And some days are full of revelation and beauty unfurling, and others are for scrubbing floors and putting one foot in front of the other. And today is the latter, here, and that's just what I intend to do right now.
Do you struggle with the mundane of the everyday, with the litany of failures as you lay your head on your pillow, or the clutches of comparison? What helps restore your perspective, helps you put one foot in front of the other and keep walking?