Made at Home
All Those Years of Doodling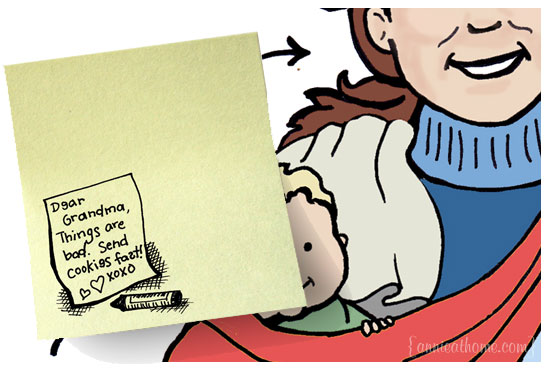 Yesterday Lisa-Jo Baker released her free ebook, The Cheerleader for Tired Moms. It was my pleasure to do the illustration and design (with a little help from my super web-savvy husband).  When I was a kid I dreamed of being an animator (don't mock me) and just a few years ago I took a class on illustrating children's books. My heads always been full of dreams, and this is one of many, and I'm not sure where it fits into the scheme of things.
While I don't know for sure where this narrow road will lead me, vocationally or otherwise, it was pure joy to dabble in design and illustration, and to hash out all the details with the lovely Lisa-Jo.
Her words are pure grace for new moms (and not just new moms, I suspect). I've been struck with her honesty, her wit, her integrity, her kick-bum (come on, it's for mothers of young 'uns) proofreading skills, and mostly just her heart. So head on over and subscribe to her blog,  so you can have a copy sent right to your inbox, post-it notes and all.