Mirror Mirror Mondays
On Sheltering Trees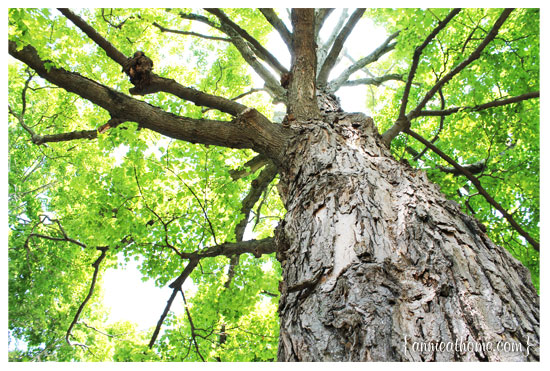 Three years make all the difference.
I ask what makes a tree grow, and my five year old tells me about roots pushing through soil, about sunlight dancing in through leaves and life-giving water that travels up itty-bitty straws inside the tree. The little one, though, she knows plain and simple: God makes the trees grow. I nod, at both of them. You're right, both right.
Someone asks "What's saving your life right now?" and my thinking splits, like a path in the woods, my mind sprinting, pulsing forward in both directions at once.
Racing down the first path I recount the last few weeks:
Last night I sat at a bus stop with a woman, a stranger with all her babies in tow. She was taking flight from abuse, stranded, halfway to the shelter. I lent her my phone and waited until the social worker arrived. She loaded her kids up with brave uncertainty; I climbed back in my car and headed home to love, to family.
Across the country, the matriarch of my husband's family is slipping away, bound for glory. Her children gather around. My oldest bears her name, and all over the world her grandchildren and great-grands remember the sound of her laughter, wait for a phone call.
My sister's been in town for two weeks. This morning, when their van pulls out and heads west, I wish I'd spent every waking moment with them, despite the chaos of grandparents and siblings and spouses and twelve cousins spread over three families trying to eek out some sort of temporary rhythm. Already, I miss them like crazy.
I think of the few days we stole away and spent with my in-laws, how good it was to just be together, and the tears in my mother-in-laws eyes as we talked about her mother-in-law, and how goodbyes always make my heart ache for home.
Along this path, I count the simple graces of standing beside my sisters in church for the first time in a very long time, of wild wedding dancing, raised eyebrows and secret winks across baby shower tables.
And you could say all the small graces – the families gathering together and the celebrations of new life, the husband who listens to my heart pour out in the dark quiet, and the cousins giggling under the dining room table – these are the nutrients being pulled up from soil. Sunlight transforms into energy as it's pulled in through green leaves, and gratitude is a photosynthesis that translates even blinding heartache into thanksgiving. And all these things have been saving grace these weeks. I could count on and on. And I do.
At the same time, the other path circles again and again around one strong tree.
What is saving my life right now? Only Jesus. Always Jesus.
It sounds simplistic, but it's the one thing I return to again and again: the gospel, a God who humbled himself and took on flesh, died and rose again to offer new life, to fulfill the law and promises and the aching of our sin-sick, broken hearts. Redemption.
It is only his kindness, leading back to repentance, again and again: when I open my mouth and let sarcasm drip; when I feed off of drama rather than quiet my heart and speak peace; when injustice and grief well up, and death and brokenness do sting.
When the whole world seems to be groaning, and my own heart feels faint, I remember that I have seen redemption unfurling, and tasted heaven's life pulsing through the deepest brokenness, and my hope is in Christ alone.
God makes trees grow, and just this is saving my soul: Jesus.
The paths converge, and I shelter here, under the hope of the gospel, and the many graces that point me again and again to this old rugged tree.
This post is a response to Sarah Bessey's question: What is saving your life right now? Read her original post here, or click here to read others' responses.