Fridays
Summer's End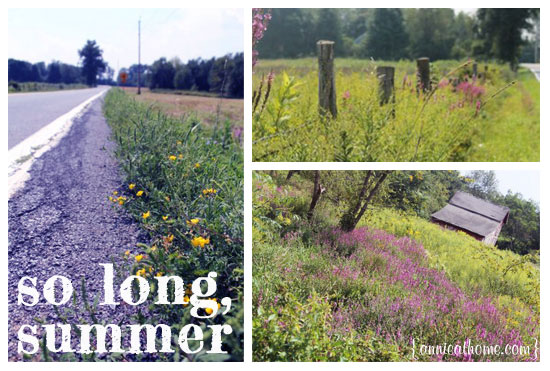 I take the long way home, and wildflowers line the bending road: yellow, purple, cornflower blue, lacey white. Every year, a final parting gift of summer.
We just finished Charlotte's Web, for the third time. The chapter on crickets ought to be read every August, I think. I hear them outside even now, in the middle of the night, singing their sad song of summer dying. And Charlotte dies. Alone. I read it through tears.
My eldest is going to kindergarten. Someone else I love is heartbroken. This week has been hard, and I have been held. There is ache and beauty all around, too much for me to bear or make sense of, much less weave into poetry.
Sometimes it feels like the world's about to split in two, or maybe just this feeble heart. Everything's dying, everything's being made new. Wildflowers bloom. It's the end of August.

This post is inspired by Lisa-Jo, who invites me & you to write for five unedited minutes: "On Fridays over here a group of people who love to throw caution to the wind and just write gather to share what five minutes buys them. Just five minutes. Unscripted. Unedited. Real.." -Lisa-Jo  ***This week's word: change.***