Fridays
The Real Wonder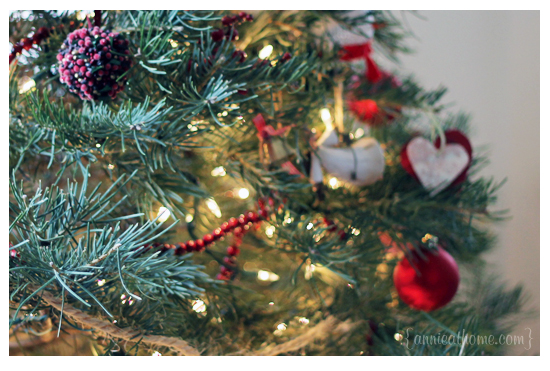 I throw a strand (or seven) of twinkle lights on an ordinary, drive-past-it-all-the-time kind of tree, and when I wrap myself in the white blanket, cozy on the couch, there's instant wonder here.
I wrote last year that it doesn't take much to make Christmas magical when the little ones are little, and I am much the same. I reread last years posts:
The one about shepherds and wisemen, how plastic Mary went missing in action, and the one about a Christmas that stinks.
And I wonder if I'm circling Advent again, like a character lost in the woods, tracing my steps around the same tree in the forest again and again, just as the year circles the calendar back to it's beginning. I get all starry eyed and wonder-filled at the Word Made Flesh coming and dwelling among us, only to get lost in the isolation of long mothering days and sin-sick self, forgetting that Emmanuel abides here still.
I made it my word for 2012, abide, thinking it was just me doing the abiding. It ended up looking a whole lot like working harder at not working harder. Has this year looked any different than last? Mercy, I fail even at abiding – prone to wander, indeed.
For Christmas I paint the word again, and set it right in front of me: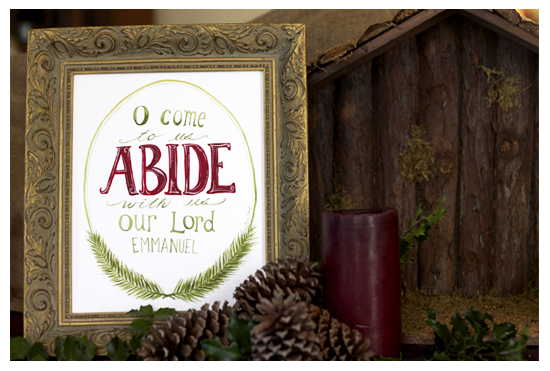 O Come To Us
Abide With Us
Our Lord Emmanuel
Right into the darkest night, the stench of the stable, the restlessness of this heart: abide.
I'm a dark night in need of angel chorus, an ordinary stable full of everyday muck. It's a wonder, even when it doesn't feel like it.
Perhaps especially, then.
Joining Lisa-Jo Baker for the last Five Minute Friday of 2012. We gather and write for five minutes straight on one word. Join us? This week's word is wonder. (It took me more like ten to write it… a child may have woken up in the middle of… keeping it real!)
Also, that painting with the words, you can find it here, in my Etsy shop.