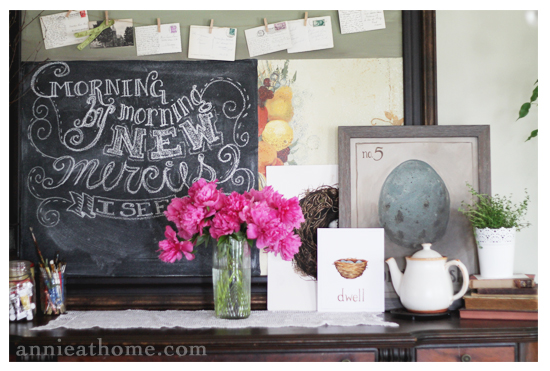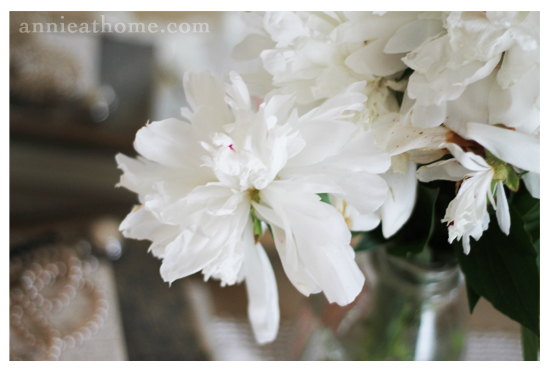 On Sunday morning, the sanctuary of our small village church is graced with a bursting vase of pink peonies. They've been cut from the garden of the retired music teacher who taught my mother flute and tuned my childhood piano. I never knew her, but I'm told his late wife gardened and served with a lifetime of small acts of love, and I tell him how much I appreciate this gesture – glorious homegrown flowers up there next to the centuries old Bible.
I planted peonies last August. It is June now, and for all their leafy goodness, only two fuchsia flowers bloomed. One was decimated by a storm.
A dear friend tells me it will take three years: Sleep, Creep, Leap, she says. Let them rest, let their roots creep wide neath the soil, and that third summer, they will bloom strong and beautiful. Under the stars, I tell her how I pined for the pink peonies at church, and she cuts several stems of  her prolific white peonies, sends me home with a bouquet.  I add my one pink peony to their mix and smile every time I see them mingling.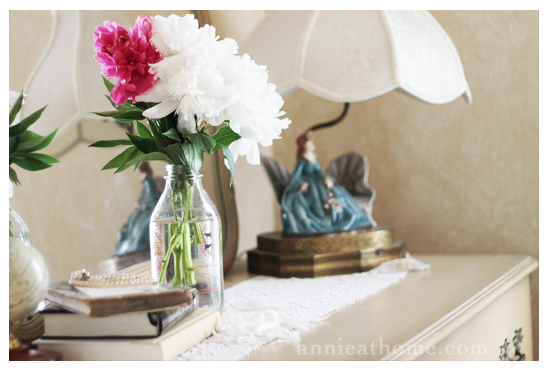 Some stories have a beginning, a middle, an end all tied up with twine and sealed with a kiss. These ones can be told with satisfaction, lessons drawn out like fresh honey from the hive. They're my favorite kind.
Some stories are larger, though, and we must make our homes right in the midst of the mystery. My six year old tells us at dinner on Tuesday that she can understand that God is here now, and that God goes on and on forever and ever, but she cannot comprehend how God has always been; how can God have no beginning?
I am ever grasping for a timeline too, wanting to know whether this is a short season to savor or a long one with hatches to be battened down.  I keep scrambling to arrange the scraps of my story into some semblance of cohesive narrative, a work that holds the tensions of grief and joy, longing and contentment. We live in a kingdom coming on earth as it is in heaven in a world where we see only through a glass dimly.
Story arcs are made of chapters,
are made of paragraphs,
are made of sentences,
are made of words,
are made of letters,
are made of single strokes of ink.
On Friday night I spent the evening with my grandmother, whose mind is all but lost to Alzheimer's. She has no use for timelines; she dances on them, her mind weaving in and out of time and place in ways I cannot fathom. I don't see her enough, and when I sit with her, all her memories stripped (save the pervasive longing for her mother), I remember all the small ways she loved: walks around the block and apples slices dotted with peanut butter, scribbly letters I'd find in my college mailbox, chronicling which birds lingered at the old bird feeder Pops built decades ago. She hated the bluejays. I doubt she'd claim she ever did anything remarkable, but her life has made a deep impression on mine in a million tiny movements.
And even if I knew the times and seasons, it wouldn't change the fact that there are always dishes in the sink, laundry to be done, always time to love, and every day ends with sleep. The small things become the anchors and I stop looking for lifeboats when my eyes sharpen to the new mercies each morning brings. I am learning to notice the birds.
These days I write less here, kiss my husband more, dabble with paint and make a picnic with the girls in the backyard. I fumble through days and fail to honor those I love in my tone and with my time, and I start again, knowing this story is still being written. I'm reading books printed on paper, and planting perennials and drinking water out of old mason jars like my mother does.
I'm not sure what happened to the flower offering after church, but days later, the retired music teacher stopped by with a Hoosier glass vase full of fresh cut peonies. I'd been up all night with a vomiting six year old, the one who can't understand how God has always been, but knows that God is here and ever will be. I place the peonies near the chalkboard and write it out so I remember: Morning by morning new mercies I see.