Today I'm sharing about a dear friend, whose honesty and steady listening has marked my life and my painting. Join me at Darcy Wiley's beautiful blog, Message in A Mason Jar. (psst- while you're there, you can enter to win a print of the watercolor Nest!)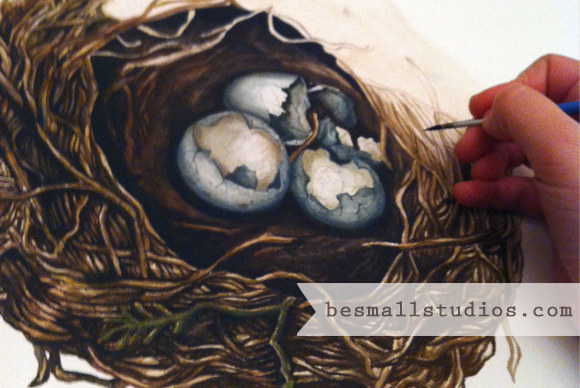 She lives in faraway Texas now, but these little-ones-playing-wildly-in-the-background days we talk on the phone nearly as much as we did in junior high.
It was autumn when she told me, gently: "I love your work, I really do. But it lacks some of the tension and messy brokenness that makes your story yours."
I wasn't expecting so much honesty, but wounds from a friend can be trusted, and few people know (and love) me so well as this particular one. She knows I draw little birds and acorns, favorite lines of Christmas hymns and a whole series of eggs, all expectant, full of April hope. These are the pictures I want to hang on my fridge, to call me towards home and invite me in to a place of daily abiding.
I shuffle around her words, awkwardly mumble something about not adorning my walls with images of a bleeding heart twice flattened by a Mack truck.  And this wise friend, she didn't pull her words back or defend them at all. She just let those words sit a while….
{Click here to continue reading at Message in a Mason Jar. Don't forget to enter to win the print Darcy's giving away while you're there!}