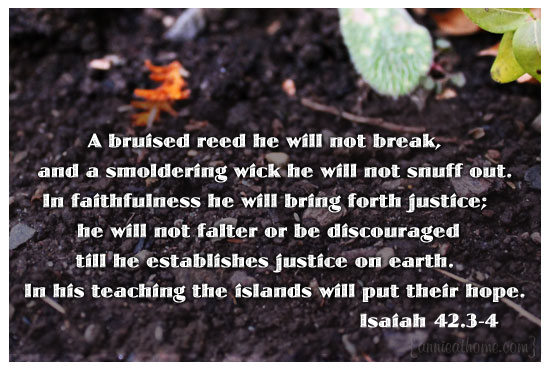 There are just two kinds of tender.
The first: spring green pressing through earth, tender shoot of new life. It is the soft mush of newborn feet, uncallused, so vulnerable. Or the essence of old love letters, penned before routine and distraction and mortgage payments made commitment an act of love, when it was all flowed sweet and wild and effortless, all the time. New life is always tender.
The second tenderness is a birth story too, but one of the soul. It requires, like spring crocuses and newborn life, a passage through dark soil, a labor through perilous birth canal, but here the contractions and dark dirt that precede tenderness come in all forms: grief and disappointment, brokenness and discipline. Like a meat mallet tenderizing tough flesh, the pain of loss makes its mark, and we press into the darkness, right through it to the light, and when we emerge we are not what we once were.
And we must press through pain, right into it, if we are to emerge. The hiding and distracting, the numbing and the sugar coating and the easy answers – they leave us right there in the dark unborn. When our hearts cry "no more" and the way to the light is not clear, but we keep moving forward – keeping hope that light will come, and when we whisper it to each other in the darkest nights, and keep vigil with the slightest hope that morning must dawn – our hearts grow tender unseen.
So press on, dear friend. Press on.
Yes, linking up this Friday with Lisa-Jo and the community over at the Gypsy Mama, who invites me & you to write for five unedited minutes:
"For fun, for love of the sound of words, for play, for delight, for joy and celebration at the art of communication. For only five short, bold, beautiful minutes. Unscripted and unedited. We just write without worrying if it's just right or not." -Lisa-Jo
This week's word: TENDER.