Uncategorized
Living Hymns: A Tribute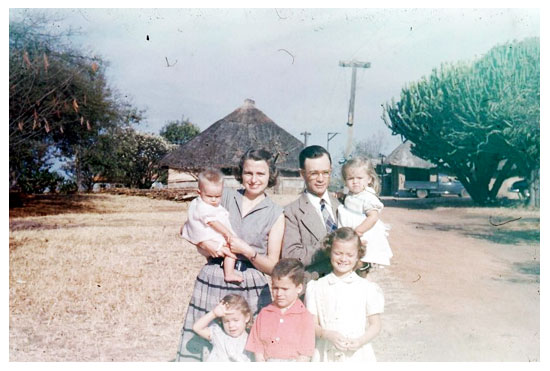 Up on a mountain, in southern California, my husband, and his father, and his father's father sit, lined up in the first pew.  I run my fingers across the back of the man I love, and watch his parents' fingers intertwine, knuckles whitening when tears flow. But Grandpa, surrounded on every side by children and grandchildren, sits alone, for once.
The pastor's wife stands up and says Grandma's life was a living hymn.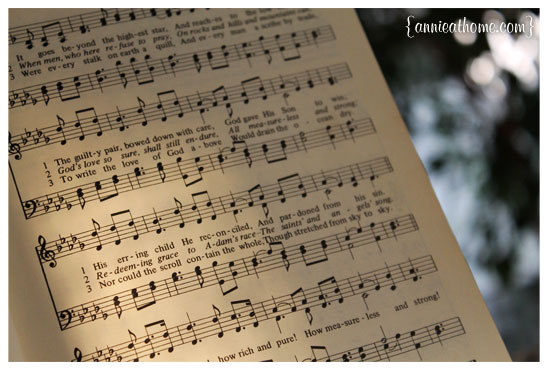 I meet her sisters for the first time; they are every bit as radiant as she was. We listen, cry, laugh, remember. Again and again we recall the sound of her whooping laughter, and the frequency of it around dinner tables and in surgical rooms, occasionally overheard behind a closed  bedroom door. Sixty-eight years of marriage; seventy-four years of faithful love, if you count the six she waited for him to finish medical school. Decades of service. Six children who are among the finest people I know, anywhere.
Grandpa stands up, shares how the two of them fell asleep singing hymns each night, closing the day with aged harmony lilting The Love of God into the quiet darkness. He sang her right into glory, held her tenderly in his arms and whispered in her ear til she breathed her last. We all sing together:
Could we with ink the ocean fill,
And were the skies of parchment made,
Were every stalk on earth a quill,
And every man a scribe by trade,
To write the love of God above,
Would drain the ocean dry.
Nor could the scroll contain the whole,
Though stretched from sky to sky.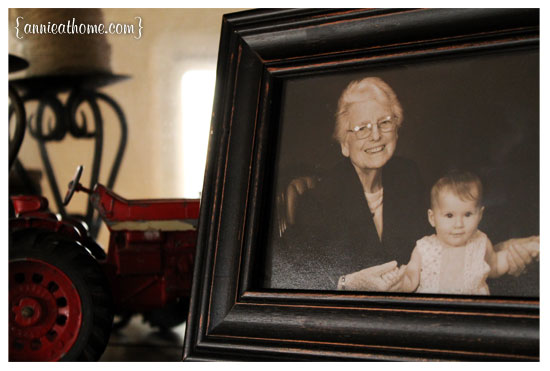 A living hymn: so much joy, such faithfulness; low notes and sweet melodies sweetly sung over generations and continents.
Our eldest, Laura, bears her name, but all the letters we have treasured here are simply signed Grandma or GG-ma. She ended each with the same words that hung framed above her bed, the Word that sang from the hard and lonely places and sun-scaped alps of her long life: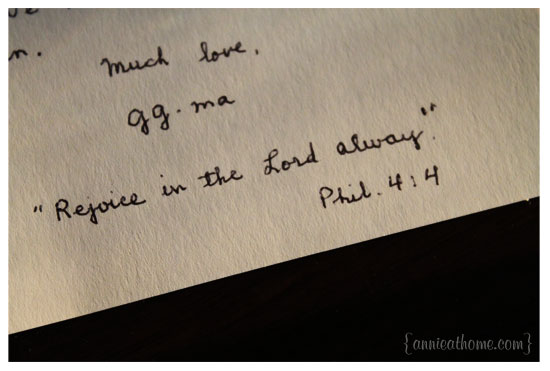 "Rejoice in the Lord always." Philippians 4:4.
I look at Grandpa, and the six grown children who bear the imprint of her love and the sacrifice of her service. And my heart aches for my little ones at home, for all the places that death and distance separate mothers and sisters, lovers and beloveds; all the brokenness that stifles life this side of heaven. Grandpa looks down at his hands, and my tears fall for all the beauty of this one life.
We return from California and pick up the girls at my parents.  At breakfast, I open my old hymn book and begin to teach the girls The Love of God, whisper a prayer that my life will sing it until last breath.