Soul Stirrings
It's been quiet around here. Some traveling, some fun work for Be Small Studios, the late summer loss of both sweet grandmothers in two weeks time, and the start of the school year have kept my days more than full. And I'm dancing around this idea of creative absence that I'll write more about some time soon, but for now, this, from earlier in the summer.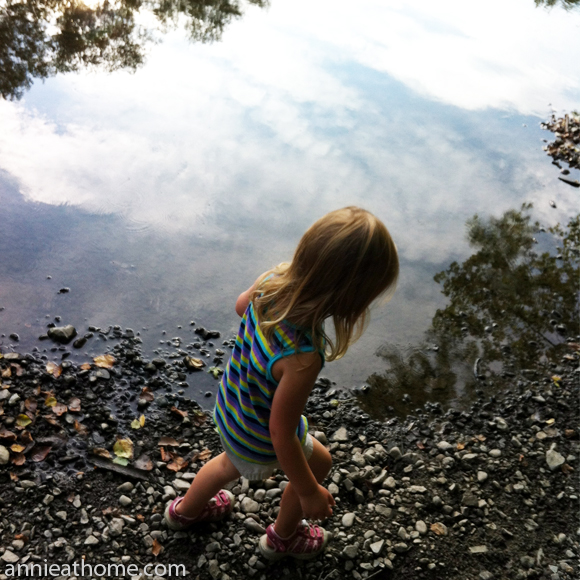 We go down to the river to play. At the bottom of things, bare feet slide off slippery rocks, dip into silt and wonder; it is quiet here.
The river's slow, all still on the surface. It mirrors blue skies and arching treetops like glass.
"Can I touch it, Mama? Can I put my hand in the water?"
She must have asked a dozen times, all the while her sister, jumps rock to rock, barefoot and unafraid.
She doesn't hear my answer, all my yeses, because she can't stop looking at the clouds beneath her feet. I come closer. Yes, baby, you can touch the water.
She stoops low and dips her little fingers in. Delight washes over her and circles make waves in sky.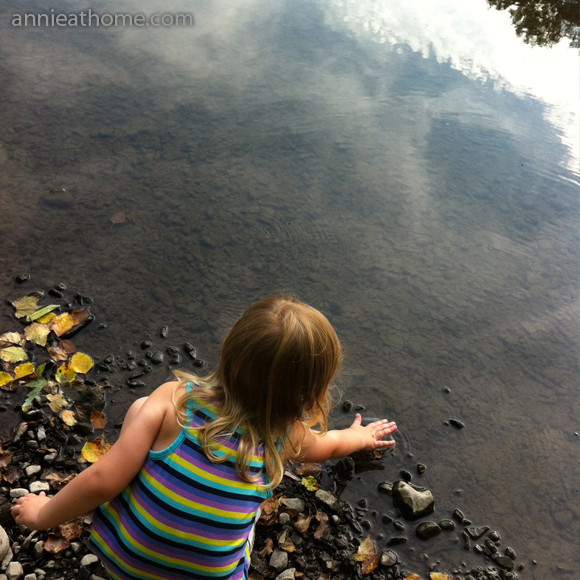 When you are small, and toes can touch clouds by way of backyard swings, and river reflections, and capes made of bed sheets, the lines between faith and sight are thin as air, aren't they? I wonder.
Does the nursing baby know anything but trust and love? She drinks it in all day long, a mystery.  I think about helpless, happy babies and I think about my grandmothers at the end of their lives.
I have seen more than one life arc with a return to simplest faith, and I am longing for descent the way she longs to touch the water.
I stop and marvel at clouds in a river, think about when things seem altogether upside down.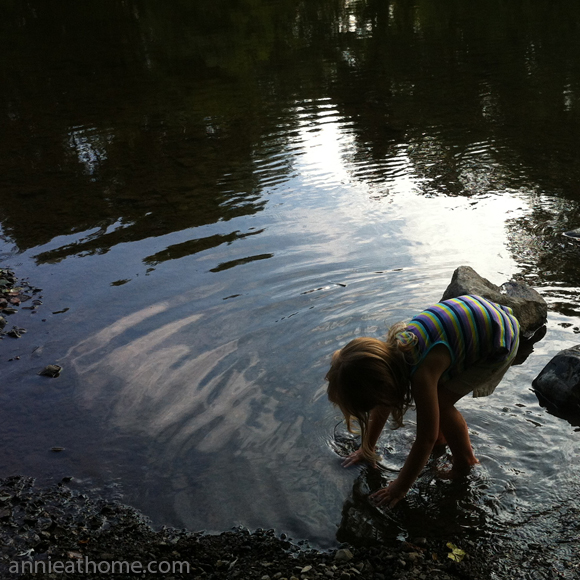 I hear lots of talk of downward mobility and upside-down kingdoms, racing away from empires and platforms and towers of Babel, going low and sitting long with the meek and brokenhearted. I hear lots of talk. And let's be honest, I do lots of talking.
I think about the people in my life who embody this well.
The folks I know, the ones who earnestly see the small and the meek, who listen to the brokenhearted, are the small and the meek and the brokenhearted.
It is the woman walking through pain, instead of around it, and offering a hand along the way. It's the one who delays her commute to listen and the one who brings soup. It is the one who introduces herself without a title, but with open arms. It's the one who makes time for children to stutter out their thoughts and extends space and affirmation to a teenager who is growing, slow and painfully awkward. It's the one who lays down agenda, and takes up compassion in the form of phone calls and apple crisp and permission to rest and exhortation to keep running the race.
And I think incarnation (God took on flesh) is the most beautiful and unfathomable part of the gospel.
It's not long before she's wading in the water. She bends low to scoop it up and begins to splash. She's dancing down here on the clouds.