Soul Stirrings
Post Office Lines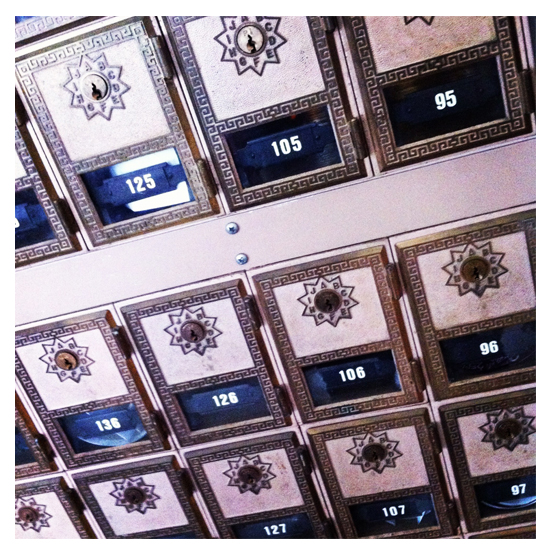 I laugh when I see the line wrapping around the old brick post office. Behind the counter the post man, who has always been there, takes his sweet time measuring width and height and depth of package, checking it twice. It's lunch hour and he is in no hurry to thoroughly explain each and every possibility for delivery confirmation, optional insurance, and letter expedition.
The woman waiting ahead of me tells me how much schools have changed, how she's glad she birthed her children whilst young. I learn about her grandchildren and the old combination locks the PO Boxes kept before the keys – how she wanted to purchase one when they redid the place, but every last one was melted down for scrap metal.
We wait and make small talk and my racing heart slows a bit.
I think of the four hundred year silence between last old testament prophecy and the birth of Christ. I think of the nine months between Mary's angel visit and the Shepherds'. All those everyday days.
The hard and the quiet is where the longing is birthed, and there's a slow knitting together that happens inside empty soul places when our every-days become holy ground.
And there are high holy days to be celebrated and I'm not one to shirk the dance and loud-off-key-singing of the extraordinary beauty and goodness, but there's something, too, to the conversations at the post office, the oatmeal making and the kitchen cleaning.
I'm learning slowly to lean into the ordinary, unglamorous everyday; to seek the hidden and the not seen (or blogged about) treasures; to let the ache grow and draw me back to the center, the Word, the quiet.
My friend Phileena says it beautifully: "Advent doesn't feel any different to me than how I live daily."
Joining Emily for Tuesdays Unwrapped.