Thoughtful Thursday
On Resolutions in Lists and Sketches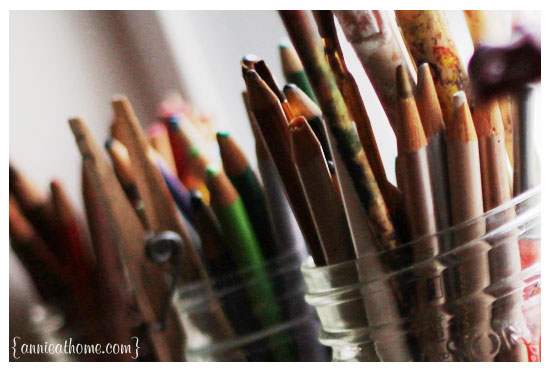 Until this year, I don't think I've ever made a New Year's resolution in my life, and I'm pretty sure my resolution for this year might not count, as far as setting measurable, quantifiable goals.  It's not that I have anything against resolutions, it's just never occurred to me.  In my mind, the changes that need to happen in my life don't seem tied to dates and calendars.  But this year, the word resolution seems to be wafting around in the bitter cold, greeting me each time I stepped outside, like the frigid smell of blazing wood on a cold night, burning in someone else's fireplace.
And as the printables and theories and practical advice floated around, I began to wonder if I was missing out on something.  I certainly don't have a lack of need for change.  We don't live in chaos here (at least not everyday…) but I could certainly use some fine tuning: in our basement, our schedules, my muscles and the state of my floors, the lack of laundry system and our life goals, to name a few.
As I sat through a recent gathering where an experienced mom shared her plethora a systems and theories on organization for the home, and as I read Tsh's advice for setting attainable goals (and the best way to achieve them) and Ann's perspective, I wondered how much of this has to do with personality.  On the Myers Briggs' scale (which a new friend, Kamille explains amazingly, here), I'm a raging ENFP – pretty extreme in all the categories (extroverted, intuitive, feeling, perceiving). I'm no expert in personality theory, so I may be totally off here, but I would guess that some of the amazing women pumping out the practical advice and insane lists for successful resolutions are probably pretty strong in either the sensing and judging categories of the Myers Briggs personality type.
You see, when I'm thinking about goals and projects, I circle around ideas, draw them out, visually – whether in pictures of word maps.  I make ven diagrams and turn them into flowers and fill them with our schedules for the week, and draw pictures of what I'd love a finished room to look like, and then watch it become that over time, rather than making bulleted lists and checking them off.
So when it came to a New Year's resolution(s) I spent a few weeks pondering it, and came back to a single focus that I've been circling around for years: learning to abide. I know, it totally flies in the face of measurable goals, and I'm processing through what it looks like, practically, to establish rhythms that make space and facilitate growth in this, and how those rhythms might influence my daily schedule and home and relationships – and I suppose that's where it gets more practical.
But a concept like abide, this is the kind of thing I can soak into and explore.  And I may, really, I must, do some practical things to make this resolution a reality, but I have learned that my goals must be rooted in essence and intuition, more perception than practical for them to take root in my life. And I suspect this is true of others, but not all.
I'm wondering if our approach to resolutions, and possibly our effectiveness in carrying them out have a good deal to do with personality type, how we process information and goals. Maybe this is why some of us are swept up with the idea of a one word resolution, or a picture, and others by lists and planning.  And I am so thankful for the organizers and the sensors out there, the best friends and bloggers, the sisters and husband who offer a perspective and a plan completely different from my own, and for things like Pinterest that let me reap a harvest of their best ideas, tailored and filed in pictures for my visual brain.
So, today I'm soaking in the sweet smell of firewood burning out there in the crisp air, and coming home happily to enjoy the hundred year old radiators that make this drafty house warm. What a crazy, beautiful world – where we're all so different, and we can learn and grow and stretch muscles we didn't know existed.  How about you?  How do you make goals and resolutions? I'd love to hear!
Note: This post totally grew out of an article I read and comment I left on (in)courage Bloom Book Club, where Tsh from Simple Mom is talking about her new book, 52 Bites. This Intuitive Feeler is very much looking forward to purchasing it, and gleaning from her wisdom!