From the Trenches
On Wombs and Women's Work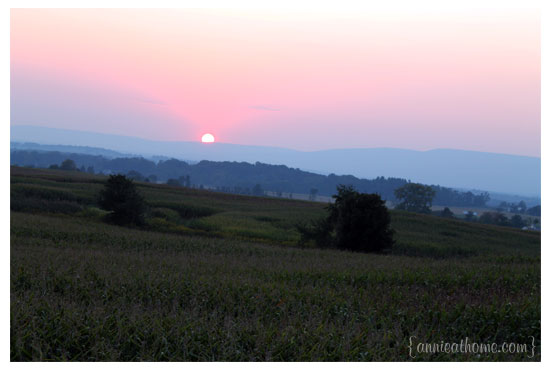 When I pull out of the driveway on Friday night, the house is in chaos, and my heart makes a match set. I'm running a little late, but I choose country roads over highway anyway. I'm a good ten miles away when I notice something honey-sweet blooming. I can't see it, but I breathe it in, sweet and thick, and my pace slows as I wind down familiar roads to a house I've not visited since I was a kid. And I'm happy to be driving away from home.
I know a handful of the beautiful women at the baby shower. It's mostly family; I suspect everyone but me is related, somehow or another.  But I am happy to be there anyway, to hold somebody else's content baby, and know my exhausted ones are being blissfully riled up and tucked in by their amazing Dad, and I am here, all by myself. I need to get out more.
The sun sinks behind the barn across the street and it occurs to me that I've been to few baby showers so casual, all raw roars of laughter and sweet stories and sangria. Twilight gives way to evening, and as the barely-little girl who's been kicking dandelions comes in from the field, the large moon dances upward, climbing through branches bearing new life.
And after dessert we file into the living room. A little bag of beads is passed around, each member of the circle threading a colorful orb onto a thread strong enough for a laboring woman to wear in remembrance. With each bead a prayer is spoken: for a healthy baby, for joy to mark the early days, for the delivery to be speedy, or at least feel like it is. All hopes are simple, true, the most necessary elements of birthing a baby and surviving those first few grueling months.
The beads are passed to me and I speak flowery, like I do when I'm nervous, and I wish I hadn't: my words are earnest, but they hang there a moment,  like a lone overdressed adolescent at a middle school dance. But this circle of women is wide enough to envelope my awkward, to laugh and nod and affirm and keep moving 'round.
On my way home the light of the moon lands, mingles, gets lost in heavy fields blanketed in fog, and a new spring's worth of peepers raise their song into the heavy air. I think about this business of babies and birthing, and how all of it starts in the first place. A mother becomes what she is because of her willingness to let a miracle grow and expand and exist within her.
At best it begins with love and vulnerability, and it grows, day by day, in womb swelling to make room for new life. We are enlarged and able to sustain wild, beautiful life growing because of a miracle conceived in vulnerability. (Even in adoption, this rings true.)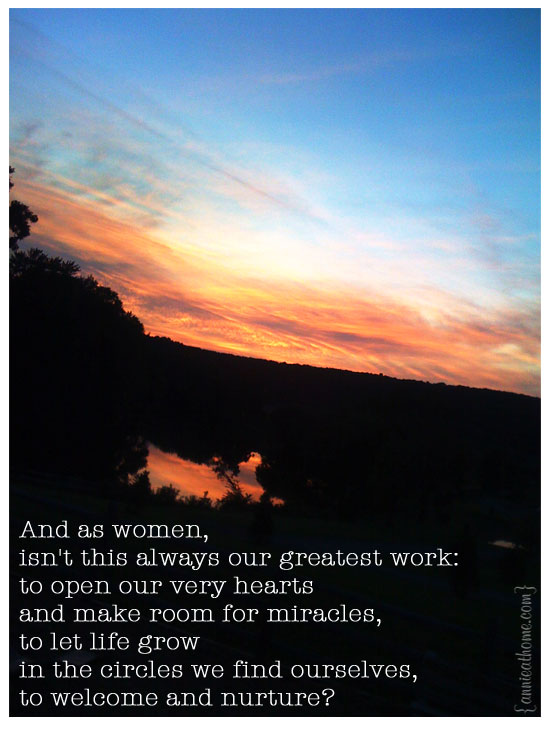 And as women, isn't this always our greatest work: to open our very hearts and make room for miracles, to let life grow in the circles we find ourselves, to welcome and nurture? And how we long to be found in those sweet places, to find an arm around our shoulder, a word of truth spoken boldly to our wobbly hearts, the encouragement to press on. 
I am grateful, this near-summer night, to have been enveloped into this circle of laughter and simple heart-cries, speaking life over a beautiful woman, belly swollen with growing miracle. And I think of the mother who carried me well past my due date, and the home she created. And my mind wanders through the faces of all the women who've held my heart and created wombs of love, sacred spaces where miraculous could grow into flesh and bone and beating heart.
It's late when I pull in the driveway and slip through the backdoor, home again. This night, I sleep deep, and wake to pitter patter feet, just slightly more ready to resume the daily litanies of mothering and making, holding and swelling.