Thoughtful Thursday
To the Sea and Smallness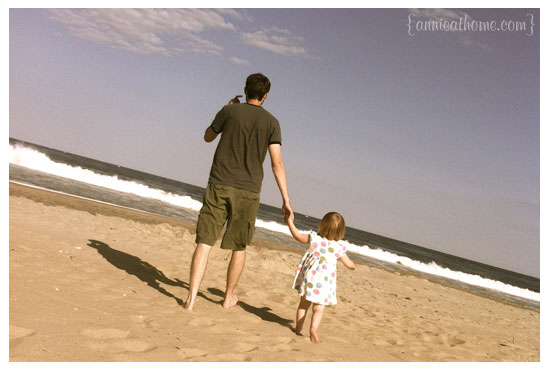 Days ago, I was sinking in all the expected chaos of the week, when we decided on a spontaneous trip to the beach. The occasion was my thirty-first birthday, sandwiched between a wearisome week peppered with poison ivy and a wonderfully exhausting three days of ballet recitals, the arrival of much-loved house guests and a three year old birthday party, directly followed by pink-eye and fevers.
And on that particular day, it didn't really matter that we were driving hours just to soak in the salty air for a measly afternoon, or that there were mountains of laundry left to fold and grass to be mowed, or that we left so late in the day that we had to worry about evening rush hour, instead of the morning one.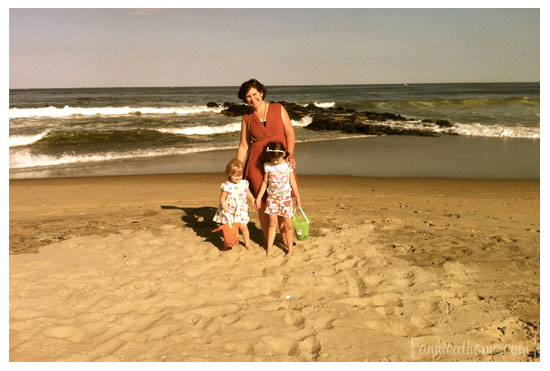 It was worth every second of late afternoon salty sand between the toes goodness. 
When I was a child, our family returned to the ocean like sea turtles to their mother-beach. Year after year, we traveled for two long days: to the same little row of houses, the same salty air and happy, clean stretch of sand on the Outer Banks of North Carolina. Something about returning, year after year, blazed the ocean into my mind as a symbol of rest, retreat, renewal.
Even now, the ocean is a lullaby for my soul. There are few things as timeless and unchanged as the ocean, predictably moving with tides and seasons; yet as unknowable and dangerous as it comforting. Her reckless beauty and pounding power quiet me, her rhythmic rolling waves and sun-baked sand draw me in, surf gently tickling toes until I'm in too deep, pummeled back to shore. It strikes me as soon as we arrive, what I love most about the ocean:
At the sea, I feel very, very small. And this is exactly as it should be.
Our shadows elongate, dance with the surf, as the sun sinks away somewhere behind us, and we don't even notice because we are facing the water.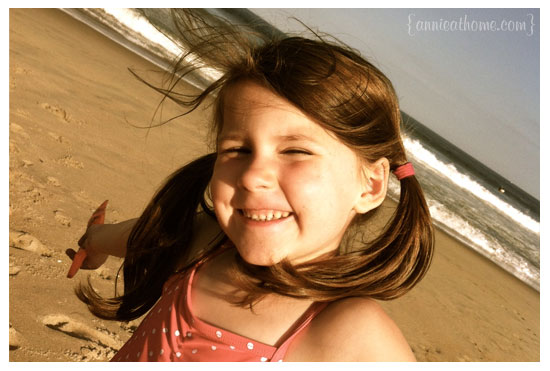 The girls collect broken bits of sea shells to carry home, but this, the smallness, this is what I want to tuck away when I return to the hum drum of laundry and the long nights with sick kids and the unexpected insecurity that creeps in like a mosquito from some holey screen in this old house.
At the edge of the sea, I know that I am a grain of sand compared to the vast ocean of God's glory. It is not difficult here, to remember that no magnum opus or platform, no achievement or vocation will increase my value or make me more or less. I am a grain of sand, counted and valued, small and significant. We linger as long as we can, and I am grateful just to bask here, to remain and abide in this place.
I think, again of the words of Jesus that have been rolling around in my mind like well worn sea glass ricocheting in the surf:
Blessed are the poor in spirit,
 for theirs is the kingdom of heaven.
Blessed are those who mourn,
    for they will be comforted.
Blessed are the meek,
for they will inherit the earth.
Blessed are those who hunger and thirst for righteousness,
   for they will be filled.
Blessed are the merciful,
    for they will be shown mercy.
Blessed are the pure in heart,
   for they will see God.
Blessed are the peacemakers,
   for they will be called children of God.
Blessed are those who are persecuted because of righteousness,
    for theirs is the kingdom of heaven.
My youngest chases a sea-bird and believes, earnestly, she might catch him.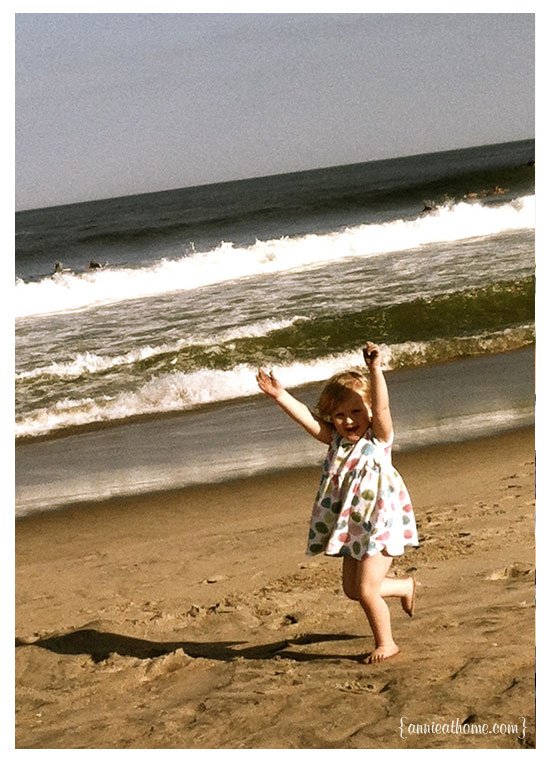 And she is small, albeit rarely meek, unafraid to mourn, quick to cry out when she is hungry, or curl up in my lap when she needs mercy. And this is worth pursuing: the growing small and stooping lower, admitting hunger and poverty of spirit, the making peace and offering mercy.
And many, maybe all, of these mysteries grate against my sense of self and my sin-sick tendencies, and many days I live chasing the opposite.  But this, basking in the oceans of the powerful, comforting Presence of Jesus and His upside down kingdom, this is how I long to spend my days.
So I chase birds with my little one. And we're quiet, quite hushed, as we drive home, away from the beach and onto the highway.