Made at Home
On the Making & the Being Made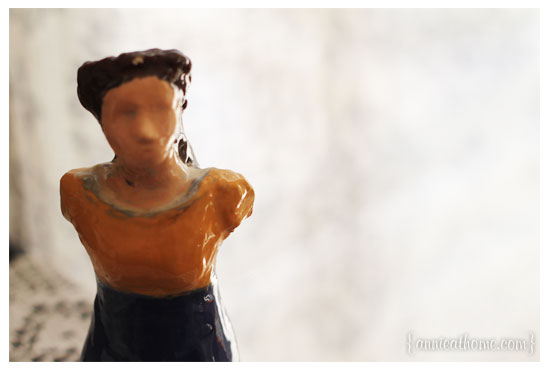 When I was sixteen I took a sculpting class in school. I have two remnants, and this one, the armless woman on the dusty white doily in the hall, she speaks to me.  Her imperfect shape rests perfectly in my palm, because it was my hands that shaped her; the crook of her neck is the round of my thumb.  At sixteen she whispered hope about curves I hated, and the mystery of being fearfully, wonderfully made. I've doubled in age, and still she sings of the being made, and I am remembering her making.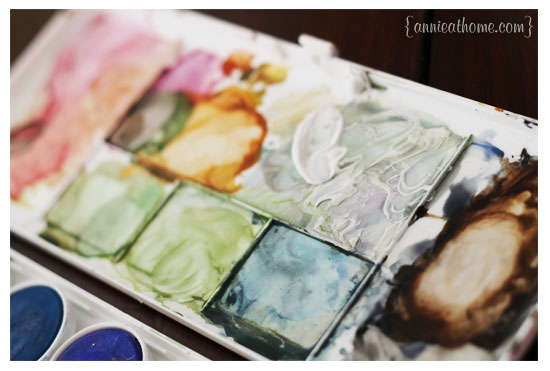 I spent my whole childhood sketching and making, all my school years pursuing art. But a dormant decade slipped in the back door, and I didn't even notice I had stopped painting, because I was busy creating other things.
Aren't we all, always making something? Imago Dei; we bear God's image.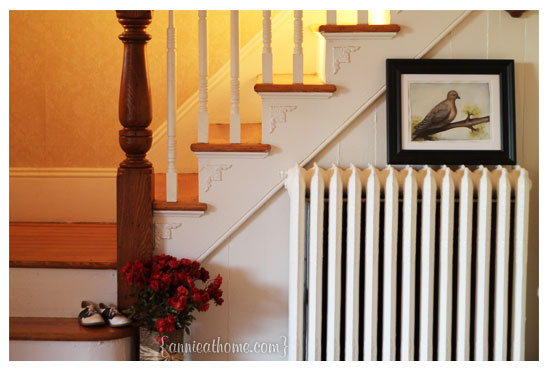 I'm not sure when I started believing it, but somewhere along the line, years ago, I stitched together the notion that art – specifically the painting and sculpting variety – was more risky, less redeemable than writing or teaching or missionary service. I didn't apply to art school because I was dearly afraid I'd loose my faith.
And I don't regret these years, not one little bit, but those threads of fear are coming loose and I am learning to worship with my whole broken life: with my loving and my listening, my watercolors and my sock-pairing, my going and my staying. All these years later, it is the art that's schooling me in the ways of joy and small, unchangeable graces and Imago Dei.
I began writing here, I think, to hunt the art down – to track it's scent in the word-weaving and the homemaking and the well-lit photographs. I write to make art because I am an artist, not the other way around.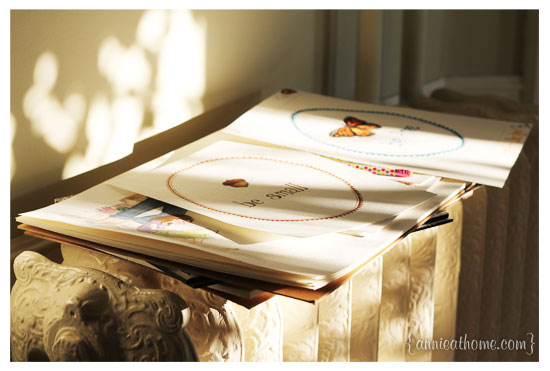 In the two years we've lived here, our house has slowly filled up with paintings: words and pictures that center my heart.
Pigment bleeding onto parchment: this is how I always say it because this is how it feels. It was loneliness and grief that stirred up the painting again, after the dormant decade.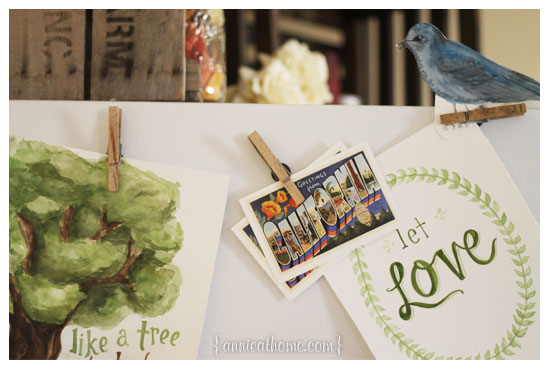 Here, inside this old house, sitting on hundred-year-old mantels and radiators, in hallways and murals painted smack dab on the wall, this art is personal revelation, quiet meditation. I play with light and color, wild water spreading wide and thin lines pulling tight. I paint the words I need to grasp. This art has been a shaft of light through dark valleys, shade and shadow on sweet, sun-kissed days.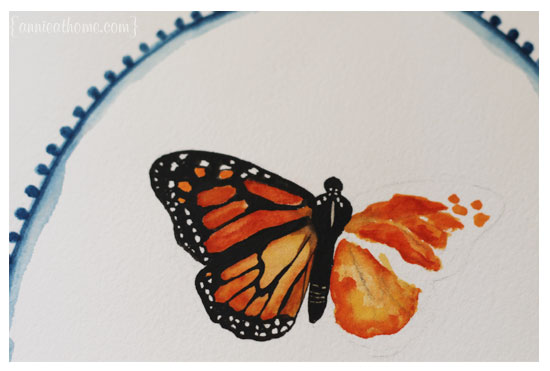 Something new is being made here: I am being made new, and I am making again. 
And, friends, [this is where I don't know how to write it proper, because I'm so full of awe and trepidation all mixed together...] I am making space for this art.
My husband, the strong, tender man I'm building this small life with, he's poured so much hope into me, and he's helping me shape and launch a new space to create and think about art. Soon, I'll be able to share these labors of love with you on my own little Etsy shop: to share the birds and the nests, the small acorns and the watercolor words of Let Love, and (I hope) many more.
I'm calling this new space Be Small Studios, because it has been in the small things I'm reminded of daily grace, and in the remembering of a small, childlike faith that I've rediscovered a sure hope.
Will you join me? I'll still be blogging my heart out here, but you can follow this artistic journey at BeSmallStudios.com, or on twitter here.
{Tomorrow I travel to a conference called Allume. The sweet friends who gather there will find something lovely in their gift bags, a small offering from Be Small Studios. I cannot wait. If you'll be there, I'd love to meet you!}
So many words here, would you tell me, what are you making these days? I'd love to hear…