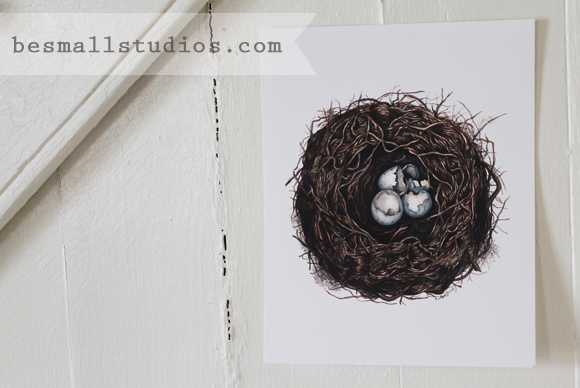 In writing and in life, I harbor a growing appreciation for folks who can wrap one white-knuckled fist around hope and let life's broken ugly drip from the other open palm. I think we need both- the truth of a kingdom coming, the reality of new life, unfettered hope and the acknowledgment of the hard, broken, the dim glass we see through.
My own small faith came nearly unraveled when I could not make sense of my sister's unexpected death. Over time, my heart was stitched back together, with ample doses of listening friends, unafraid to sit with someone in grief. Now I can't sing the melody of redemption and grace without the weight of this broken world lending it's low, dark harmony. And now, the tension is leaking off the brush, too.
The more I paint, the fewer words I scratch. Somehow, wishy-washy watercolor seems to hold more than letters and punctuation, and these days, I prefer it. So last week, I slipped two new prints into my etsy shop.  These ones – the nest and the cup. These are the beginning of a series: A Study in Brokenness.
These images are my grasping to capture the hard places of a kingdom come and not yet come.
These are for the mama bird holding their breath, letting her hatchlings take fumbling flight.
These are for the dreamers burying well-laid plans, unclenching fists to the One who births dreams.
These are for messy middle where redemption is veiled, and hope is deferred.
These are for the beautiful ones pressing on, waiting for restoration.
These are for the brave ones taking flight, and remembering the place from which they came.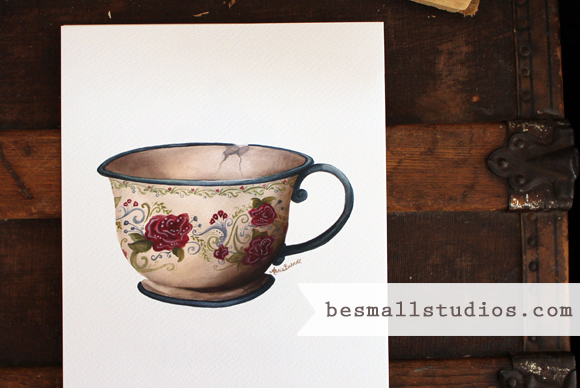 These are for me, and for you, friend.
I would love to hear, how you hold on to hope in the midst of brokenness, what Scripture or words or images quiet your heart in the hard times?
{And if you'd like, hop over to Be Small Studios for more on these prints, or follow Be Small Studios on twitter and facebook. And check back in here tomorrow – I'll share a guest post about how the words of a friend precipitated the art.}