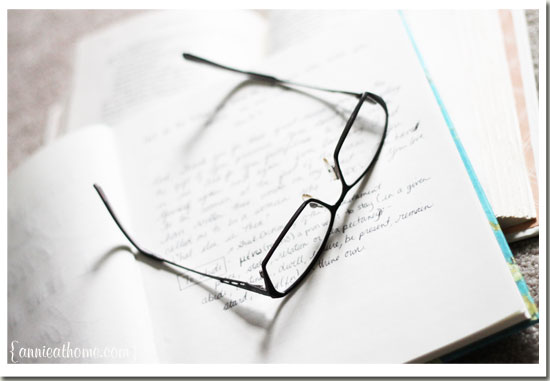 From the attic I hear church bells ring.  A benefit of living in a small village, this may be my favorite feature of our home: its proximity to three houses of worship that pause to mark the weeks and years and holy days with long, tolling invitations to pause and be still and to come worship.  And that is exactly why I've come to the attic, this New Year's Eve, redeeming the best gift I received this Christmas – an afternoon of solitude, provided by the man who knows me and loves me best of all.
And after the bells fall silent, I sip tea and sit long.  In quiet.  It's a miracle that could be a rhythm of my days and weeks, and I am learning that even this extroverted, spontaneity-craving woman needs stillness and rhythm as much as I need roaring laughter and mystery.
And I come back to the words that grip my heart again and again.  The words written as epilogue in my favorite childhood book, and the ones whispered during college crisis of faith, and tucked in corners of my life at crucial junctures all along the way: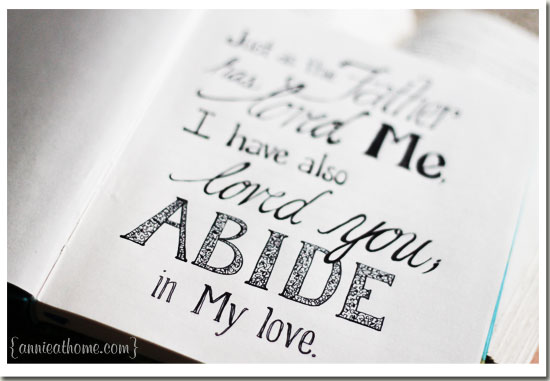 And as a new year dawns, I am aware that there are plenty of places in my life that need strong resolution: my lateness and my laziness, my lack of routine and propensity to live self-focused; the list is long, and, yes, I will seek by grace to grow in these.  But these are not my resolutions. Just this one thing is the foundation that I will build my life upon, and all else must come from this place: to abide in the love of God.
And I pull out the Greek Dictionary of the New Testament, and the word for abide is defined as this: To stay (in a given place, state, relation or expectancy) abide, continue, dwell, endure, be present, remain, stand, tarry (for)… Oh to stay in His love, to remain in the center of that relationship, to keep this heart vulnerable and wide open in expectancy.  To continue and endure in this love, to be present in it.  To stand in it and tarry for it, all at the same time.  To abide. To dwell.  These are the words I painted and hung in our dining room, the ones that I long to define this day, here in the attic, and this new year closing in, and the whole of this small life.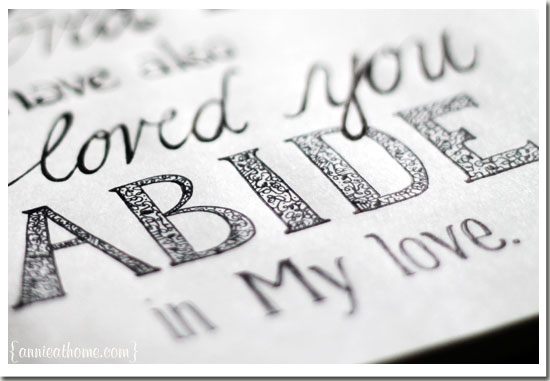 Abide. I think it is truly the most beautiful word I have ever heard.  This is the word I come back to, again and again, when my heart yearns for a life bigger than the one I've been given, and also when I long to shrink back from dreams too big for me to understand. And it is here, abiding in perfect love, that He becomes more and I become less. The lies of not good enough, not doing enough, all the enoughs and shoulds, they loose their grip – because when I remain in His love, I am reminded that my value has little to do with my performance, and much to do with grace, and I see you in that brilliant light too. And it is Love that nurtures the branch to bear fruit, and He is a faithful vine-dresser, so it is here, I resolve, by grace alone, to abide.